Astronomy fanatics may be in for a treat this Saturday as an estimated 200-foot asteroid is expected to "zip" past Earth in about half the distance from the surface of the planet to the Moon, according to a report.
EarthSky.org, a website that specializes in science-based reporting about the cosmos reported that asteroid 2023 DZ2 will make its closest approach to Earth on March 25 at about 3:52 p.m. EDT at a speed of 17,403 miles per hour.
But even though that may seem really fast on Earth, when looking at objects in space it may not appear that fast. Instead, it will likely look like a star moving slowly across the sky.
MYSTERIOUS STREAKS OF LIGHT SEEN IN CALIFORNIA SKY EXPLAINED
DZ2 was discovered in February by astronomers at the La Palma observatory in the Canary Islands, Spain.
The asteroid's near-Earth approach this week has no chance of hitting earth, but it will give astronomers and specialists a close view of the object to get a better understanding of it and its orbit.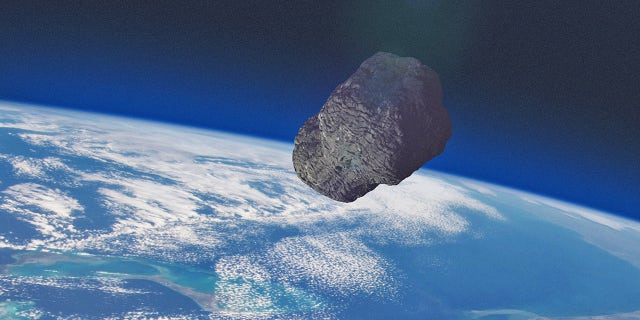 In fact, the space rock is expected to make another Earthly approach on March 27, 2026, according to NASA, and has a 1-in-38,000,000 chance of striking our planet.
WEBB TELESCOPE CAPTURES STUNNING IMAGE OF STAR ON CUSP OF SUPERNOVA 15K LIGHT-YEARS AWAY
Once astronomers view the object this weekend and process lots of calculations, that likelihood could change.
The close approach will also give scientists a better idea of the asteroid's size, which could be anywhere from 43-95 meters, or 141-312 feet, in diameter.
Asteroid DZ2, EarthSky.org reported, is a member of the Apollo family of asteroids and orbits the sun every 3.16 years.
The meteor that exploded over Russia's Ural Mountains in Chelyabinsk in February 2013 was about 49 feet wide and weight 10 tons. When it entered the atmosphere, it was moving at about 33,000 mph and shattered into pieces about 18-32 miles above the ground, injuring 1,100 people (mostly from flying glass.)
In 2018, the 2018 GE3 asteroid was discovered just one day before it skimmed past Earth in a "surprise" flyby. 2018 GE3 was estimated to be 119,500 miles from Earth's atmosphere at its closest point and had a diameter of 131 to 328 feet.
CLICK HERE TO GET THE FOX NEWS APP 
The asteroids that make up the asteroid belt between Mars and Jupiter can measure about 580 miles across, so 2018 GE3 and 2023 DZ2 are small in comparison.