Baidu (NASDAQ:BIDU) is the world's largest Chinese search platform, like Google in China. Baidu operates through two segments, Baidu Core and iQIYI. In my previous articles I primarily focused on BIDU's potential in autonomous driving platform (Baidu Is Poised To Become The Leader In Autonomous Driving In China, and Baidu's Successful Commercialization Of DuerOS And Apollo Will Lead Accelerated Future Growth, And It Is A Bargain Now). In this article I want to discuss BIDU's potential in AI, specifically whether BIDU could succeed with its own 'ChatGPT' like investment. ChatGPT reportedly reached 100 million users in Jan-23. As stated in my previous article, ChatGPT attracted $10B investment from Microsoft, and Microsoft will prioritize on its integration efforts with ChatGPT for all businesses especially Azure and Bing.
In the last three months, post BIDU's Q3-22's earnings release, BIDU price jumped by +68%, as compared to +10% for SP500. The company reported excellent financial results in Q3-22, +2% YoY growth in revenue, and +53% YoY growth in non-GAAP Operating Income.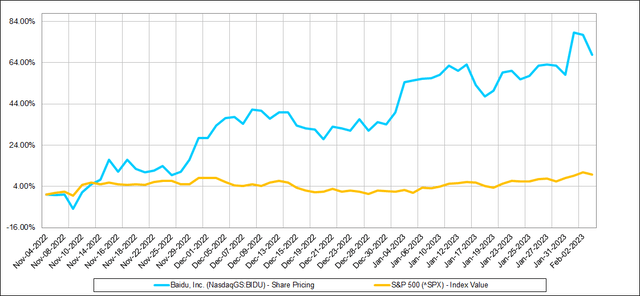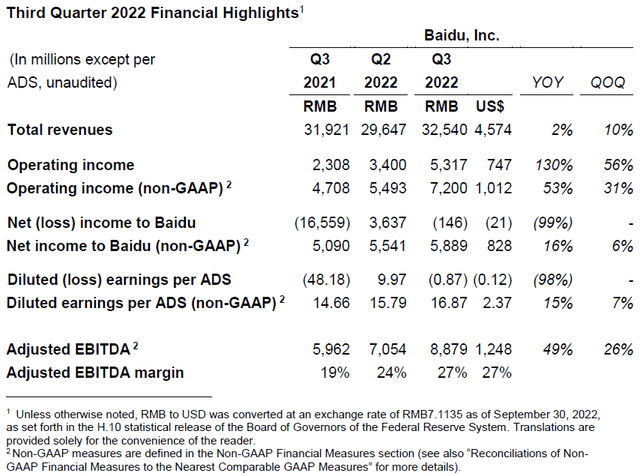 BIDU is reportedly to launch a ChatGPT-like AI chatbot in March 2023
According to Reuters:
Chinese internet search major Baidu Inc. is planning to launch an artificial intelligence chatbot service similar to OpenAI's ChatGPT in March, a person familiar with the matter told Reuters.
Although the company has not officially responded, this sounds to me a very natural step considering BIDU's years of investment in AI. BIDU as the largest search engine in China, it is undoubtedly well positioned to train best-in-class AI with massive language data. For well-known reasons China wants its own ChatGPT, like it wants its own search engine. I can imagine the future that most of the inspirations we had from ChatGPT will be played out in BIDU's version of ChatGPT. TechCrunch's recent article "Would Baidu's answer to ChatGPT make a difference?" shared greater details on Baidu's 'ChatGPT' secret, which I cannot agree more.
One month ago, BIDU had its annual developer conference Baidu Create where it shared a variety of technologies including artificial intelligence, autonomous driving, intelligent search, quantum computing and AI scientific computing. In this conference, BIDU introduced its three AI "creators": Big Model ERNIE 3.0 Zeus, Big Model ERNIE-ViLG 2.0 and new video content generation and editing technology.
ERNIE is BIDU's state-of-the-art AI language model
ERNIE (Enhanced Representation through kNowledge IntEgration), BAIDU's AI language model since 2019, has laid a strong foundation for BIDU to develop its own ChatGPT.

Fun fact – Ernie was named after the Sesame Street character Ernie, who is Bert's best friend, and BERT (Bidirectional Encoder Representations from Transformers) was Google's neural network-based technique for natural language processing pre-training. There is limited information for us to compare BERT/ERNIE/ChatGPT, but a previous report from TechnologyReview two years ago mentioned that BIDU beat Microsoft and Google at the General Language and Understanding Evaluation competition. GLUE is comprised of nine tests measuring various tasks that are important in language understanding.
The average human typically scores around 87 points on GLUE, out of a possible 100. Baidu's ERNIE cracked the 90 point threshold.
The point here is not to try proving which is better to one another, but to say that those NLP products are somewhat comparable. BIDU spends 20% of its revenue in R&D, and in the past few years it has several ventures around AI cloud, Autonomous driving, and smart speakers.
Based on Canalys estimates in Sep-22, BIDU AI Cloud has 9% cloud market share in China (GCP – Google Cloud Platform – also has 9% cloud market share WW). I expect ERNIE to help BIDU continue gaining shares as cloud customers are eager to gain access to ERNIE. BIDU might be able to succeed in the same way as how ChatGPT will empower Microsoft Azure's growth. According to Engadget:
Microsoft will add ChatGPT to its cloud-based Azure OpenAI service 'soon'. Microsoft is giving more people — or at least more customers — access to OpenAI's technologies, including ChatGPT.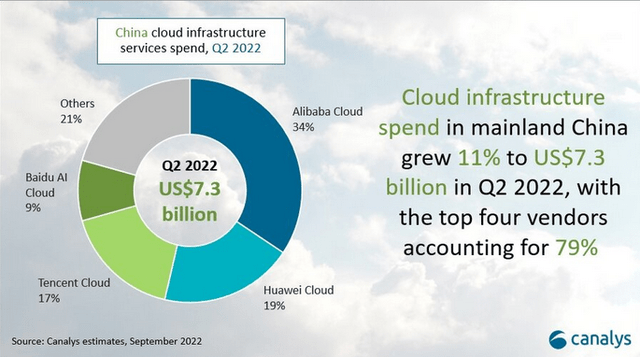 BIDU's valuation
With the end of China's zero-covid policy, China's economy will soon recover. Overall I am positive with BIDU's financial performance in 2023. I forecast about 12%-15% YoY growth in revenue, and at least 200 bps improvement YoY in non-GAAP Op Margin. In the Sum-Of-The-Parts valuation, I applied 10x P/E for BIDU core, 3.5x P/E for Cloud, 1.5x P/E for iQIYI, etc., arriving at $196 per share, +37% from its current price.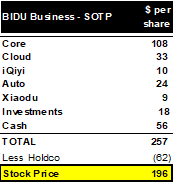 Conclusion and Risks
BIDU is an AI leader in China and is well positioned to advance ERNIE centered commercialization across its business portfolio. Investors may want to look at BIDU in a similar lens as investing in ChatGPT.
In terms of risks, ChatGPT disrupts the world, and worries the world. As much as a Chat Bot can leverage enormous data available in the universe, it will still rely on humans to advocate appropriate use cases and mitigate various risks. In a highly regulated environment like China, BIDU will have to keep the potential risks in mind as well.