OCCIDENTIAL, Calif. – The family of a 2-year-old boy from Sonoma County has been overwhelmed with grief after he was killed by a tree that fell during the bomb cyclone that hit California this week.
Aeon Tocchini was crushed when the rain-soaked redwood toppled onto the family's home in Occidental. He was found covered in debris, according to Occidental Volunteer Fire Department Chief Ron Lunardi.
Aeon's grandmother, Aileen Tocchini, flew in from Idaho to try and help the boy's parents.
"His life was a short life, but his life has made a difference and will continue to make a difference, I believe, for many generations," Aileen Tocchini said. "Aeon means forever."
Aeon's mother, Aisha Tocchini, told KTVU FOX 2 in San Francisco on Thursday that she had been feeding the horses on the property along Joy Road when she heard an explosion about 5 p.m. The noise was the crash of a tree that had fallen onto the family's double-wide trailer.
DRAMATIC VIDEOS, PHOTOS SHOW THE FORCE OF POWERFUL BOMB CYCLONE THAT HIT CALIFORNIA
A large portion of the tree landed on Aeon, who was sitting on a couch. The boy's father was also inside the house and managed to climb out of the rubble. Aeon was pinned under the tree, and his family couldn't move it. Neighbors had to cut the trunk into pieces before they were able to free the child's body, but it was too late.
Kipper Capell lives down the street and recalled the horror.
"I stayed up all night because I couldn't get her (the boy's mother) cries of anguish out of my head," said Capell.
Capell said first responders tried hard to save the boy.
"They did a lot of work trying to revive the little one, and he was just never breathing," he said.
Aeon's pet cat, Lio, was also killed after a second tree fell onto the home as the family was trying to free the boy.
Aeon's family said his nickname was "Goldie" because of his blonde hair and sunny personality – the light of his family's life.
DEADLY BOMB CYCLONE WASHES AWAY POPULAR CALIFORNIA BEACH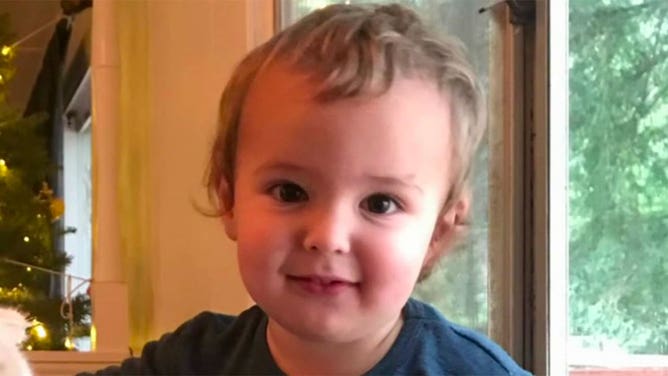 His grandmother remembers the last conversation she had with him before he died.
"I talked to him about two hours before it happened, and he told me he missed me, and he was just like always loving and telling you how much he loved you," Aileen Tocchini said.
Aeon is survived by two siblings, Eden and Danny, who were not injured when the trees fell.
A GoFundMe was created to help the family rebuild their destroyed home and truck, as well as pay for the funeral of a toddler who loved to dance and play in the outdoors.