When Tropical Storm Fred made landfall on Monday afternoon in the Florida Panhandle near Cape San Blas, all the associated ugliness — storm surge, rainfall, flooding, tornadoes, power outages — was to be expected. But it was also expected, if not guaranteed, that Fred would weaken quickly thereafter; which made this a relatively easy, relatively safe strike mission for wave-famished Floridians looking for a warm, chunky meal.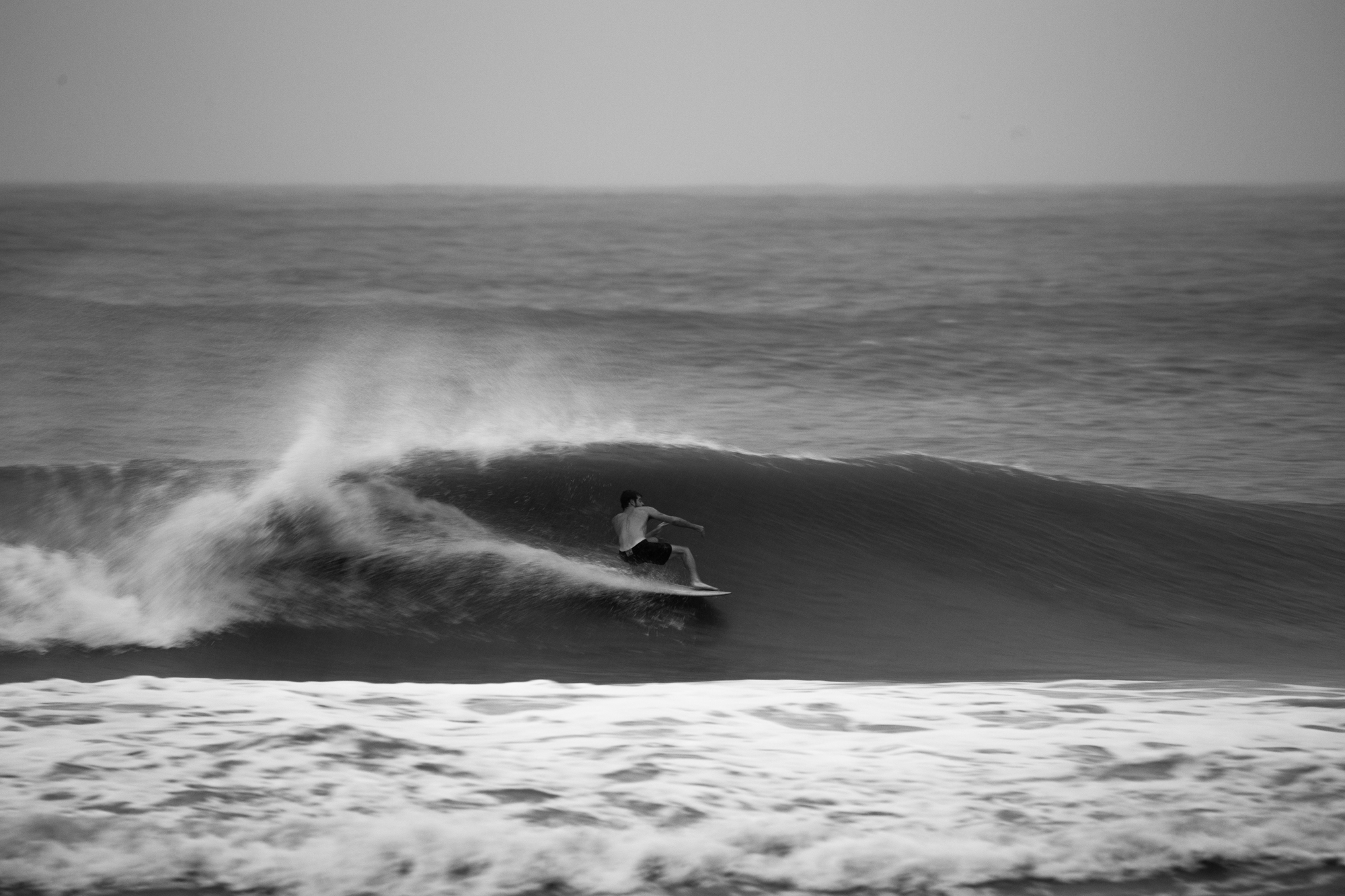 Not that the surfers would've pulled the plug had Fred ended up a monster, although the storm did ultimately claim the life of one driver who hydroplaned and flipped their vehicle into a watery ditch near Panama City. But in terms of Eastern swell chases, this one didn't require a lot of thought.
"Fred formed east of the Caribbean region and took a beeline through the northern Caribbean Islands," explains Surfline's Mike Watson. "After getting shredded by Hispaniola, the storm tracked through the Florida Straits and into the Gulf. Initial tracks pegged it tracking up along the West Florida coast, but the storm tracked a bit further west before taking a north turn, hitting the Panhandle on Monday afternoon. West Florida saw a decent shot of swell fill in Sunday as Fred slid on past; the Panhandle through Alabama and Mississippi were next on deck, with select spots scoring head-high to a little overhead, hollow waves."
"Yesterday was one of those classic, all-day, storm-chasing affairs," explains Panhandle photographer, Alex Dantin. "It was a gamble, knowing that the storm had tracked more east towards the Panama City area, so the swell would be bigger there — but we decided to chase the sunshine for a couple windows of opportunity, westbound, over the border in Alabama."
"I got there around dawn and the winds were more sideshore than offshore," Alex continues, "but knowing the storm was coming in hot to Port St. Joe, we figured if we waited (bathroom breaks and breakfast), we'd see the winds switch to offshore. It was a quiet lineup in the morning, but once that first little band of rain passed, the winds turned ever-so-slightly for some classic, against-the-grain drainers… by Gulf Coast standards, at least. It went from four guys out to about 15, which isn't that bad for these parts. But with the current being so strong, you had to make sure your wave choice was spot on."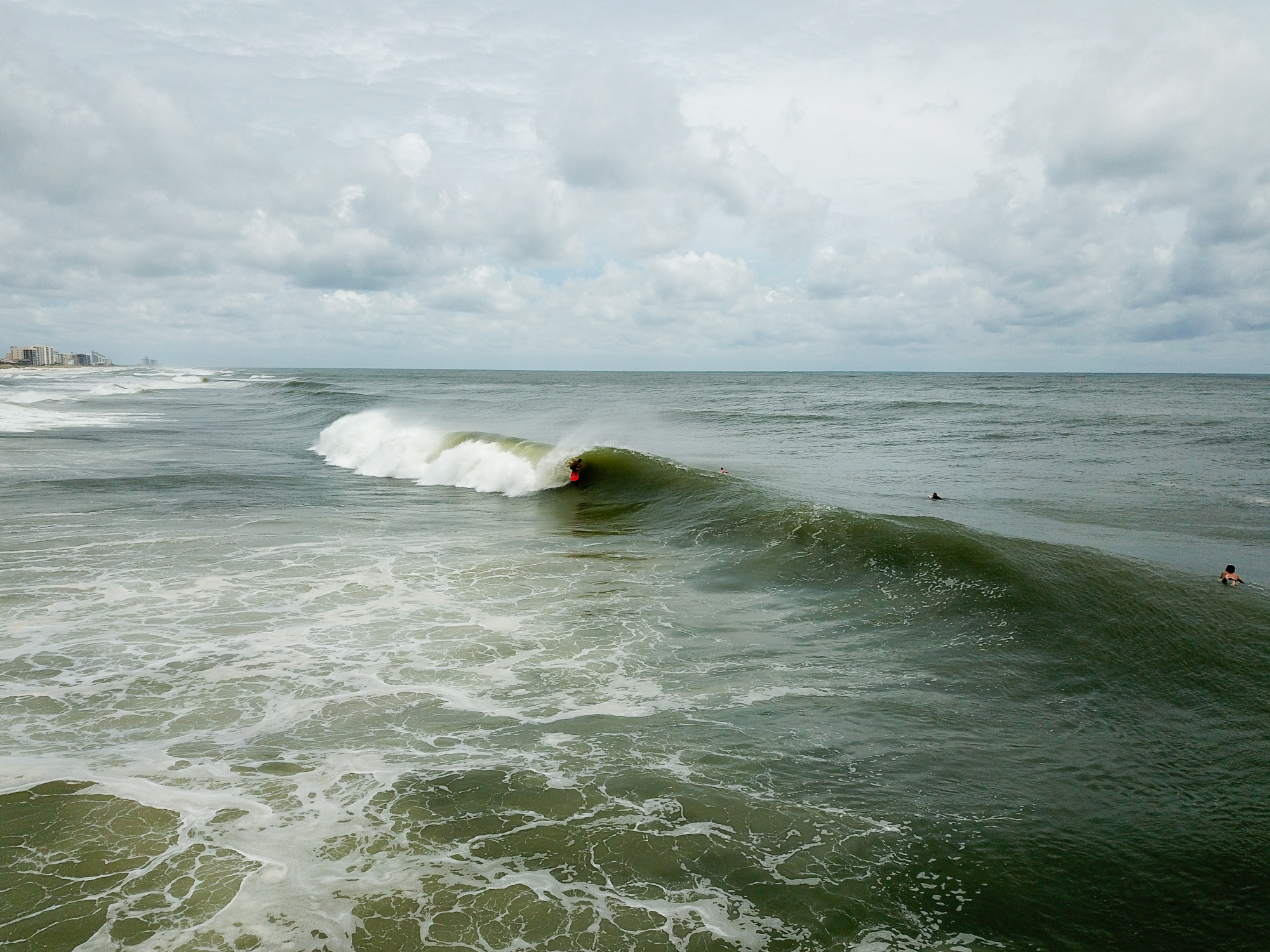 Meanwhile, a hearty band of North Florida players helmed by World Longboard Champ-turned-traveling tube guru, Justin Quintal, set their sights on a decidedly undisclosed zone along the Florida Panhandle.
"It's been a relatively mild summer, but the tail end has been characterized by the heat waves we've all come to expect this time of year living in Florida," says Quintal. "With the rising temps, tropical activity has started to ramp up. I've been patiently waiting, logging waist-high waves, for the past two months, ready to hit the road at the first sign of a storm. It was a sight for tired eyes when Fred developed into a tropical storm with a questionable, but desirable path for the Gulf of Mexico."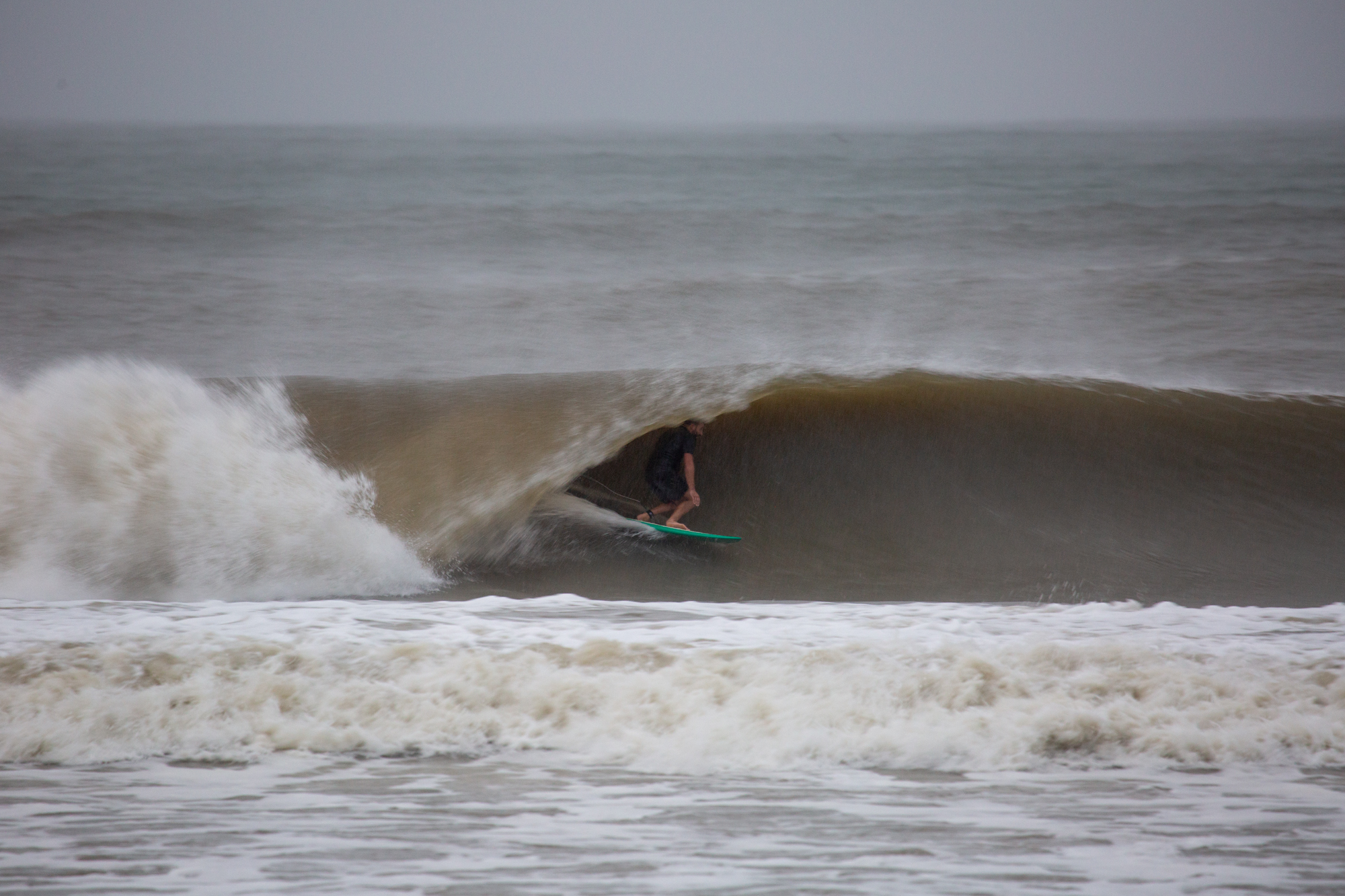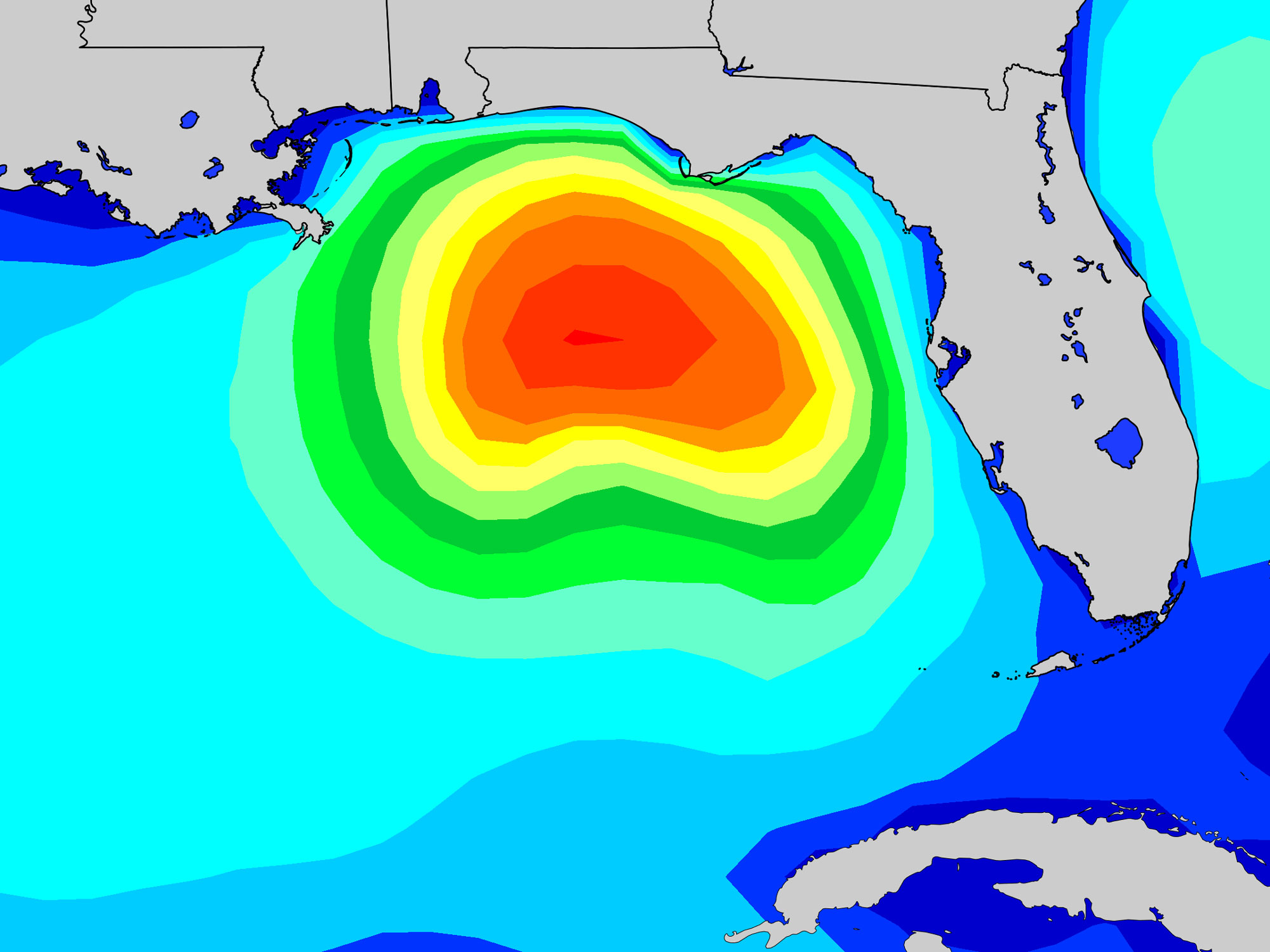 SWELL SIGNATURE
Storm Location and Movement: Storm Location and Movement: Through the Caribbean, hooking north through the east-central Gulf, making landfall near Cape San Blas in the Florida Panhandle
Storm Wind: Observation of 55kts from Air Force Hurricane Hunters just before landfall
Storm Seas: 14' on offshore buoys; satellite observed 18'
Swell Travel Time: 12-18 hours
Swell Height, Period and Direction: 14'@10sec Pensacola buoy Monday morning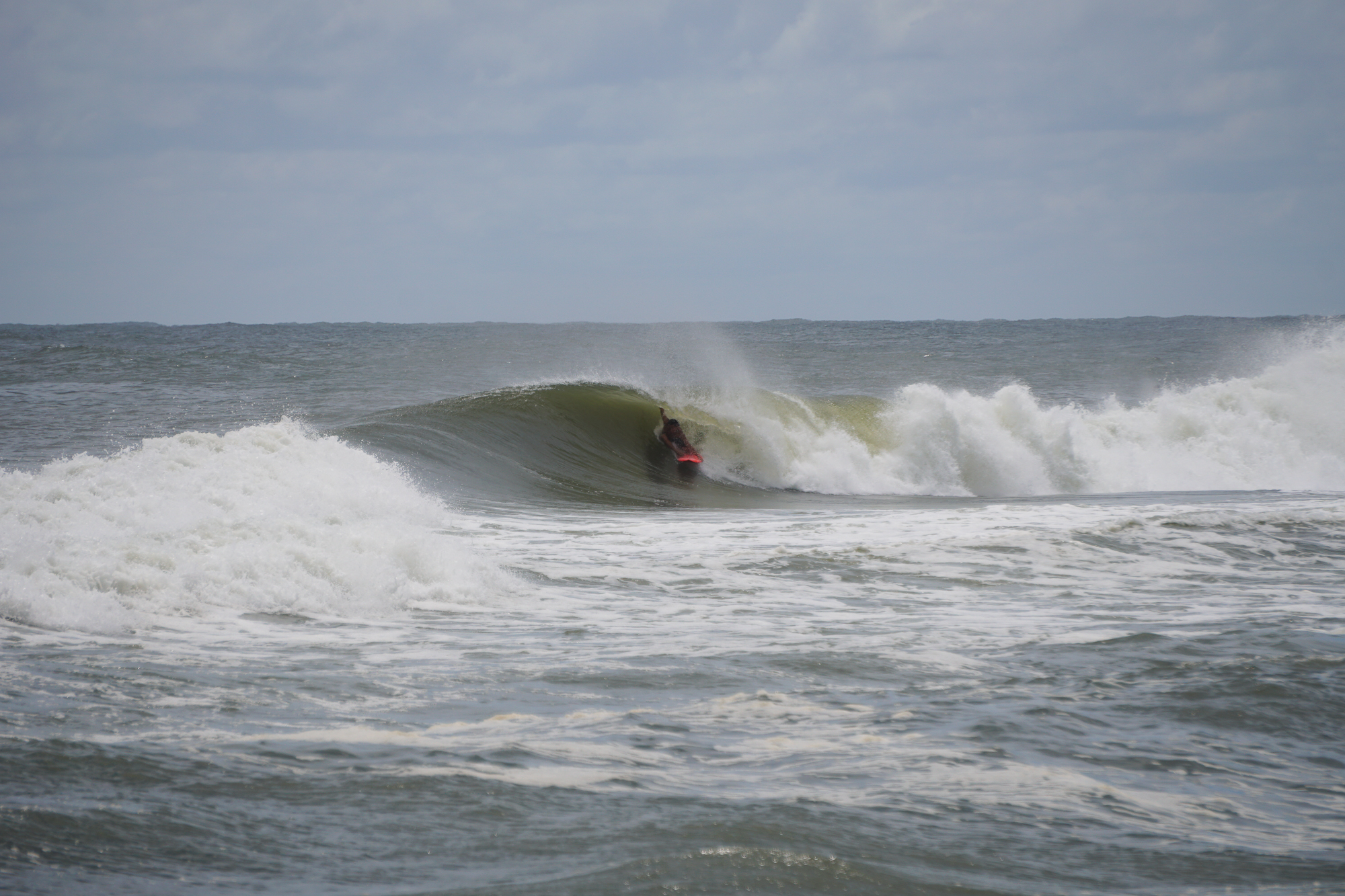 "Photographer Gunner Hughes, amateur forecaster and wave discoverer Ryan Watters and I hit the road toward the Panhandle, ready to drive four hours in either direction, depending on where this thing hit," Quintal continues. "Throwing caution to the wind, we ignored the local news channel's warnings and braced for a direct hit, hoping for a window of surf the next morning before the wind and rain got too out of hand, as forecasted. Hopes were high but expectations low, as the path of the storm changed once we arrived that evening. It looked like we'd be getting more weather than tubes."
"But we held on to hope, and when we awoke early the next morning, we were surprised to see the storm had stalled during the night. The game was back on. Caffeinated and bushy-tailed, we made our way to the beach, and when we walked over the dunes, we couldn't believe our eyes: Long, groomed, left tubes reeling down the beach — the perfect angle, the right size, and all we could've hoped for from this modest tropical storm."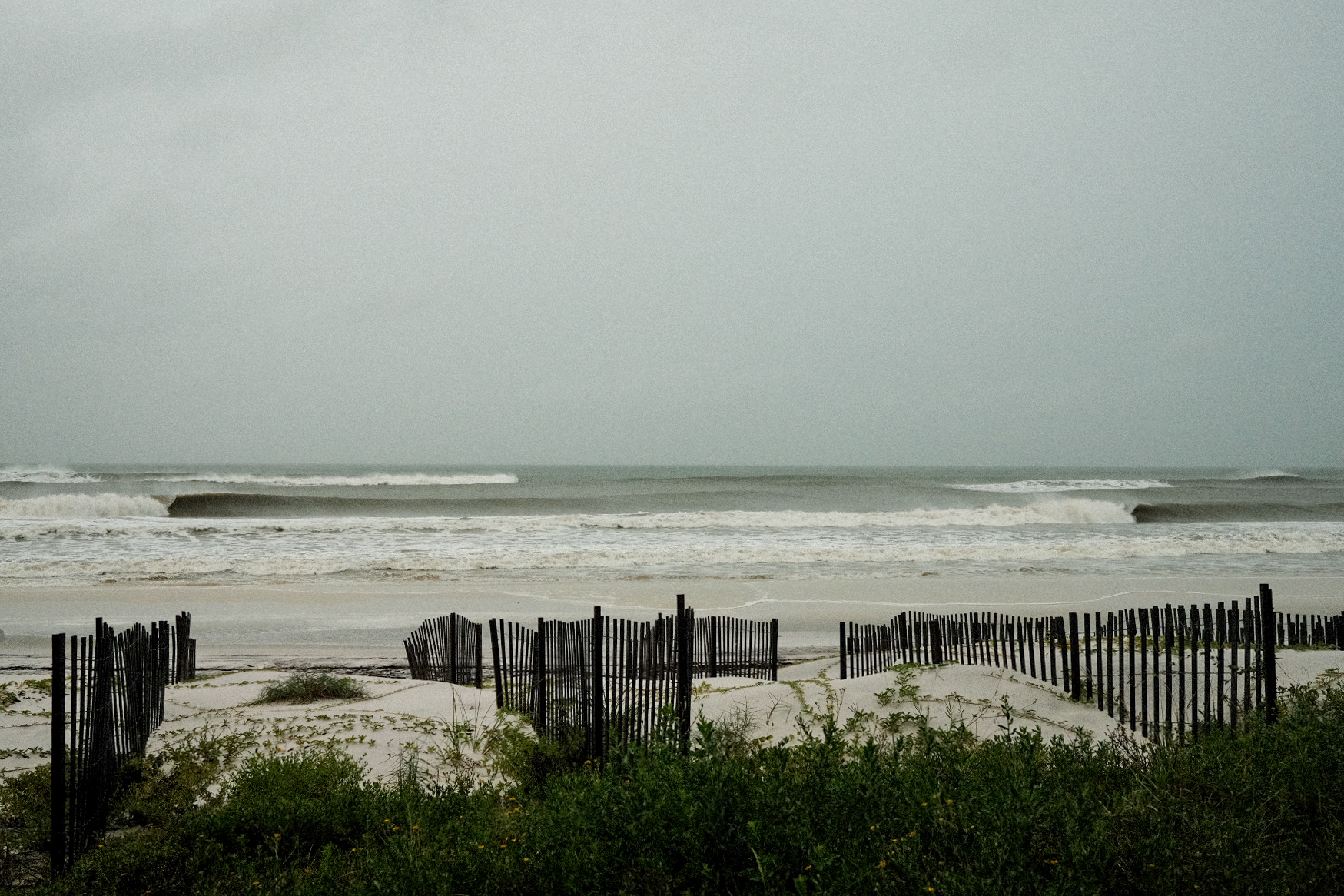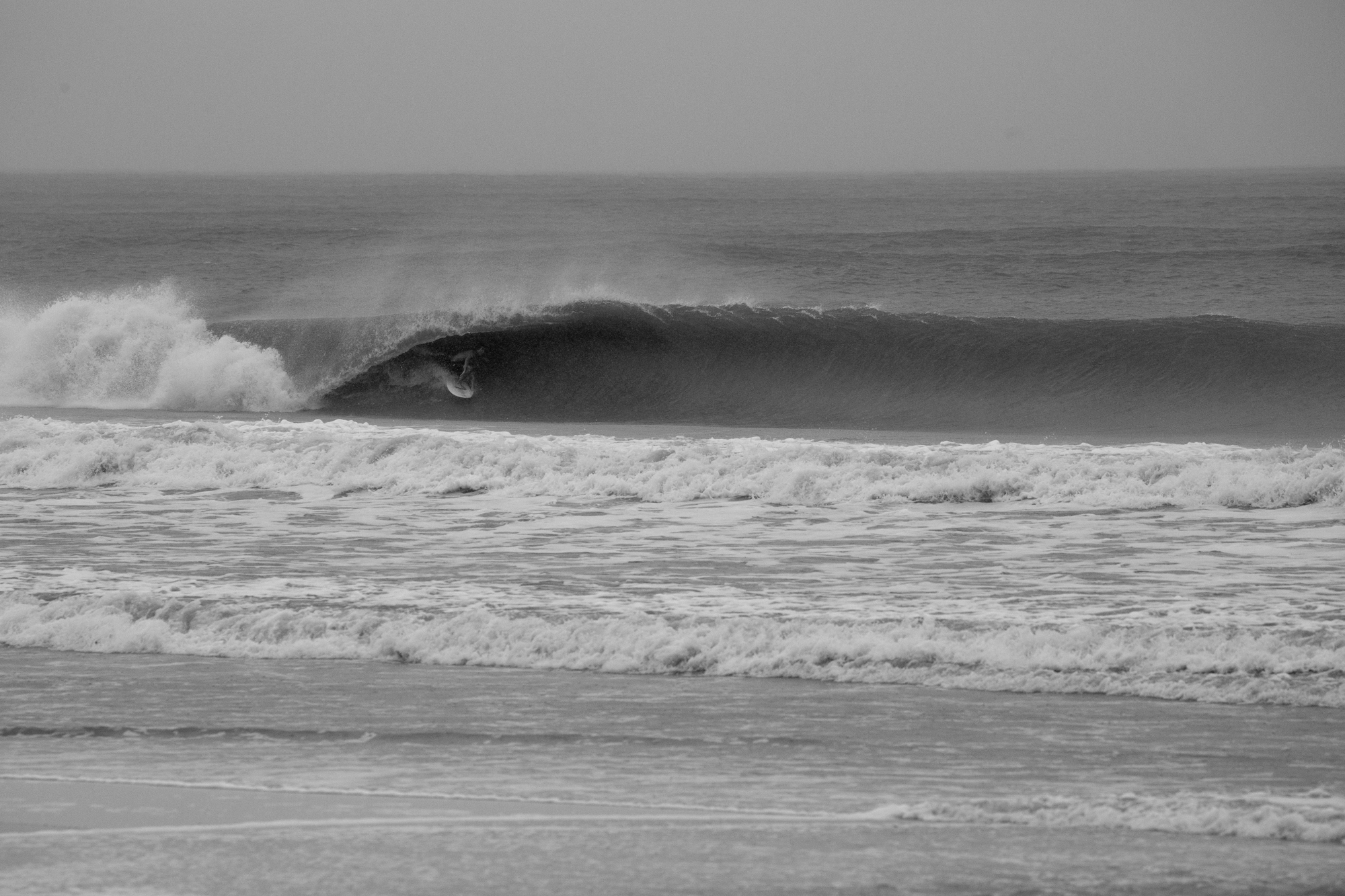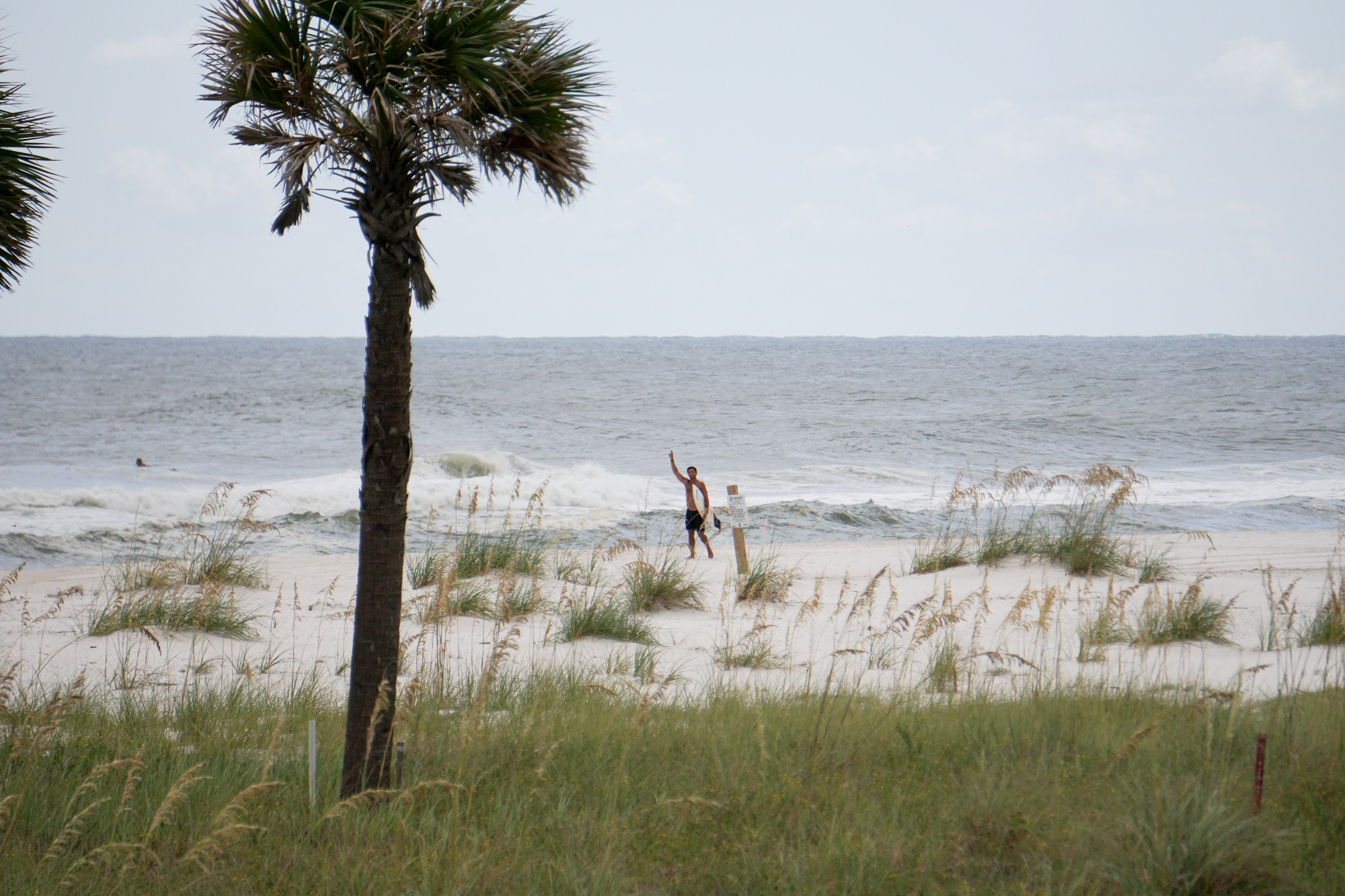 Know before you go
Start your 15-day free trial to
Surfline Premium
and get access to the world's best forecast team.