Sometime in the summer of 1825, Fort Atkinson lost its sawmill to one of the most destructive forces of nature: a tornado.
Thus began the recorded history of twisters/cyclones/tornadoes in Nebraska.
Whatever you call the storms, they have brought death and damage to big cities and tiny hamlets.
Omaha in 1913 and 1975. Grand Island in 1980. Those are the granddaddies of them all.
Yet, none of them wiped out a town the way Meridian was in 1875. Sweetwater in 1890. Herman in 1899. Ralston and Berlin (now Otoe) in 1913. Primrose in 1965. Hallam in 2004. The communities of Wisner and Pilger in 2014.
"There was a roar like a thousand cars on the rails. The house, which was bolted down to the foundation lifted from the walls and settled back," a woman told the Blair Pilot-Tribune about surviving the Herman tornado. "Our party crawled out of a small hole safe, but such a scene of devastation.
"The house was windowless, warped and twisted, and the inside all covered with sandy mud. In the backyard was a carriage and a dead horse and the debris of other homes. We were happy to be alive for others were less fortunate."
From searching ever-increasing sources of digitalized publications — many in the History Nebraska microfilm collection — comes the most comprehensive list of tornadoes reported to strike populated areas in the state.
Partly because they cover the most area, Omaha and Lincoln rank 1 and 2, with 35 and 20 respectively. Lincoln has avoided the most damaging ones. Omaha hasn't.
Other large cities are in the top 10 — Grand Island (seven), North Platte (six), Beatrice, Hastings and Kearney (five apiece) and Bellevue and Fremont (four apiece). Hebron also has had four tornadoes.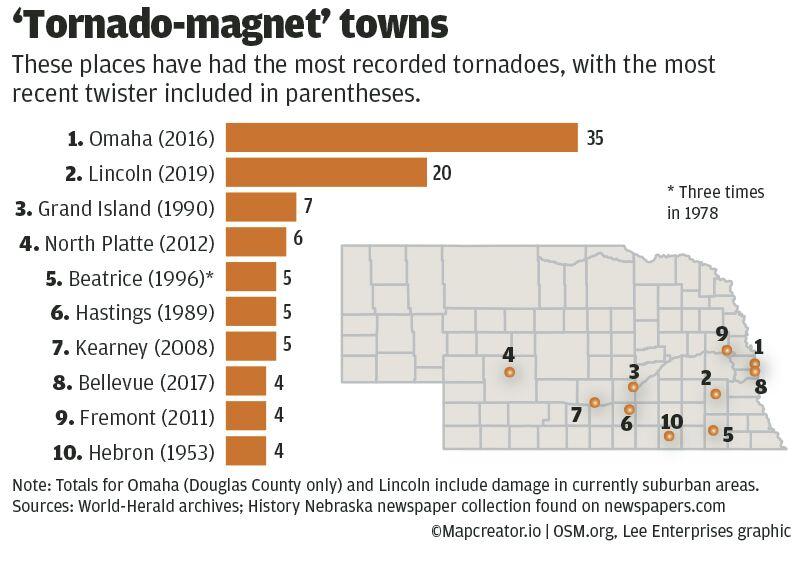 The last one to strike that south-central community, in 1953, wiped out the business district and half the homes in Hebron.
Some villages absorbed worse fates. A sampling:
The Santee Agency on the Missouri River near the present town of Santee saw its mission building and hospital among the buildings leveled on June 1, 1870.
Meridian, near Fairbury, was abandoned after its 1875 destruction. A consolidated school name restored its name.
Sweetwater, near Kearney, wiped out, its six buildings gone. Unlike Meridian, Sweetwater is still on the state road map and has city signs on Nebraska 2.
Herman, north of Blair, lost its downtown and 90% of its homes.
Nenzel, then home to 43 people in Cherry County, had all buildings damaged in 1962.
Wolbach, north of Grand Island, was 70% damaged in 1964.
Primrose, southwest of Albion, was 90% destroyed the next year.
Magnet, southeast of Yankton, South Dakota, took a direct hit on May 6, 1975 — the same day as the Omaha twister.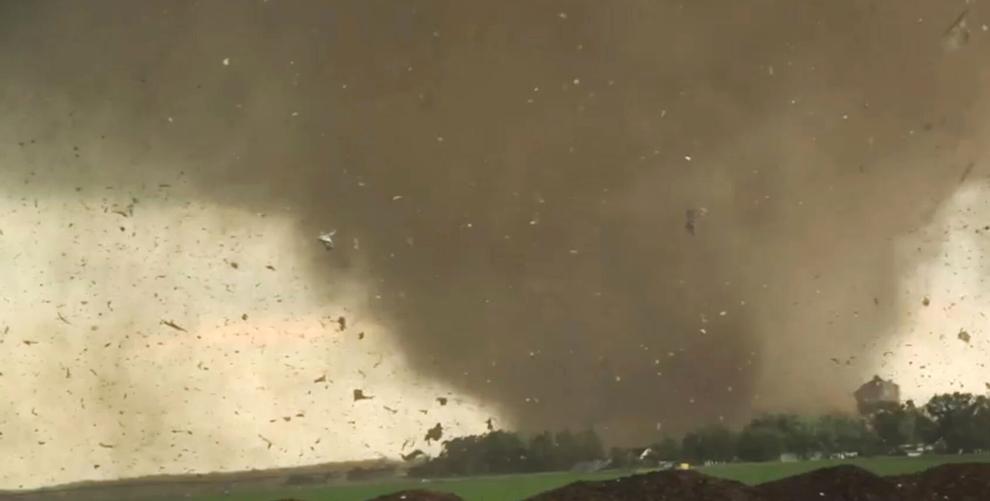 Then nearly 30 years went by before a tornado smashed Hallam, 20 miles southwest of Lincoln, in May 2014.
The most recent town wrecker cut a wide swath through Pilger, east of Norfolk, on June 16, 2014.
Three-fourths of the structures in the town of 360 were destroyed from the storm, which stirred up parallel twisters. Two died, a 5-year-old girl fleeing a mobile home and a 74-year-old motorist from Clarkson, Nebraska, was killed while he was making business deliveries.
The deaths are the state's most recent from tornadoes.
The three most deadly twisters were on the same day — March 23, 1913. They were part of five tornadoes that spun up that Easter afternoon in eastern Nebraska — according to a 1914 report in American Geographical Society compiled by two UNL professors — and all crossed the Missouri River into Iowa.
Omaha's tornado killed 116 in the city (based on contemporary research). Nineteen people died on the north side of Yutan, in Saunders County. Twelve perished in Berlin (renamed Otoe), in Otoe County.
Most of Berlin was destroyed. So was Ralston, where there were seven deaths. Other fatalities were near Mead in Saunders County, DeSoto in Washington County and Rock Bluff and Nehawka in Cass County. The death toll, including an estimated 25 in Iowa, was 192.
All struck without warning.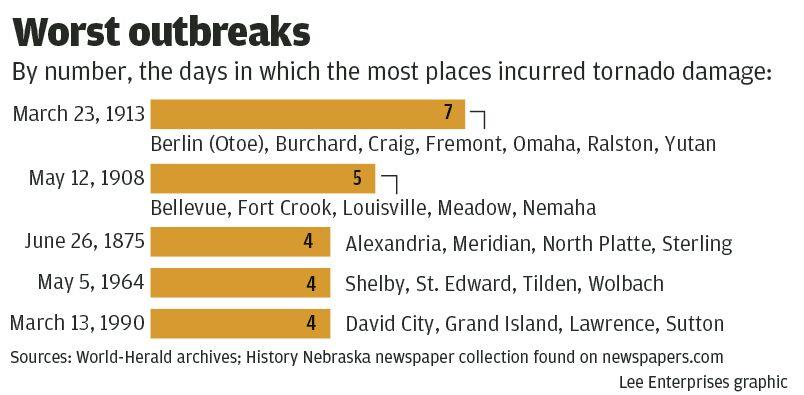 The first official tornado warning was issued in 1948 at Tinker Air Force Base in Oklahoma. Before 1950, the U.S. Weather Bureau at times strongly discouraged at sometimes prohibited "tornado" to be used in forecasts because of a fear that even a mention could cause panic.
As technology, research and reporting improved, so did discerning the damage between tornadoes and straight-line winds. The Fujita scale of measuring tornado strength was introduced in 1971.
Before the modern era, which starts with 1950, it was up to local observers or newspapers to determine the nature of the winds.
Such as for a storm that struck the western city limits of Omaha on June 3, 1925. Millard V. Robins, the city's Weather Bureau meteorologist for 46 years, initially didn't consider it a tornado because winds at the downtown weather station never exceeded 20 miles an hour.
Only after Robins visited the damaged areas the following day did he upgrade his assessment from a "severe squall" to tornado. Interestingly, in 1975, the Omaha office of the National Weather Service did not include 1925 in its list of tornadoes hitting the city.
Great care was made in analyzing the pre-1950 storms. There may be a few either way, straight-line winds listed as tornadoes or tornadoes not included, since newspaper reporting was used in large measure.
Next: A detailed look at the tornadoes that have struck Omaha and other populated areas in Douglas County.
Photos: 1913 Easter tornado roars through Omaha