This is the third weekend in a row for wintry weather in North Carolina. 
The first winter storm produced more snow in western North Carolina, while last weekend's storm produced more snow and ice in eastern parts of the state.
At the start of this weekend, light snow has been falling across the state. 
Related story: Live Updates: N.C. sees more winter weather
Much heavier snow is now falling north of us across the northeastern United States as a strong area of low pressure moves up the East Coast.
As any snow tapers off in eastern North Carolina through Saturday morning, the low pressure north of us will make for a cold and windy day.
Wind gusts up to 30 to 35 mph are likely in much of the state. Gusts may reach up to 40 or 50 mph in the mountains and along the coast at the Outer Banks.
The gusty winds will make it feel colder than the actual temperature all day.
In fact, the wind chills will be dangerously cold around the mountains. The Boone area will feel like it's below 0 for part of the day.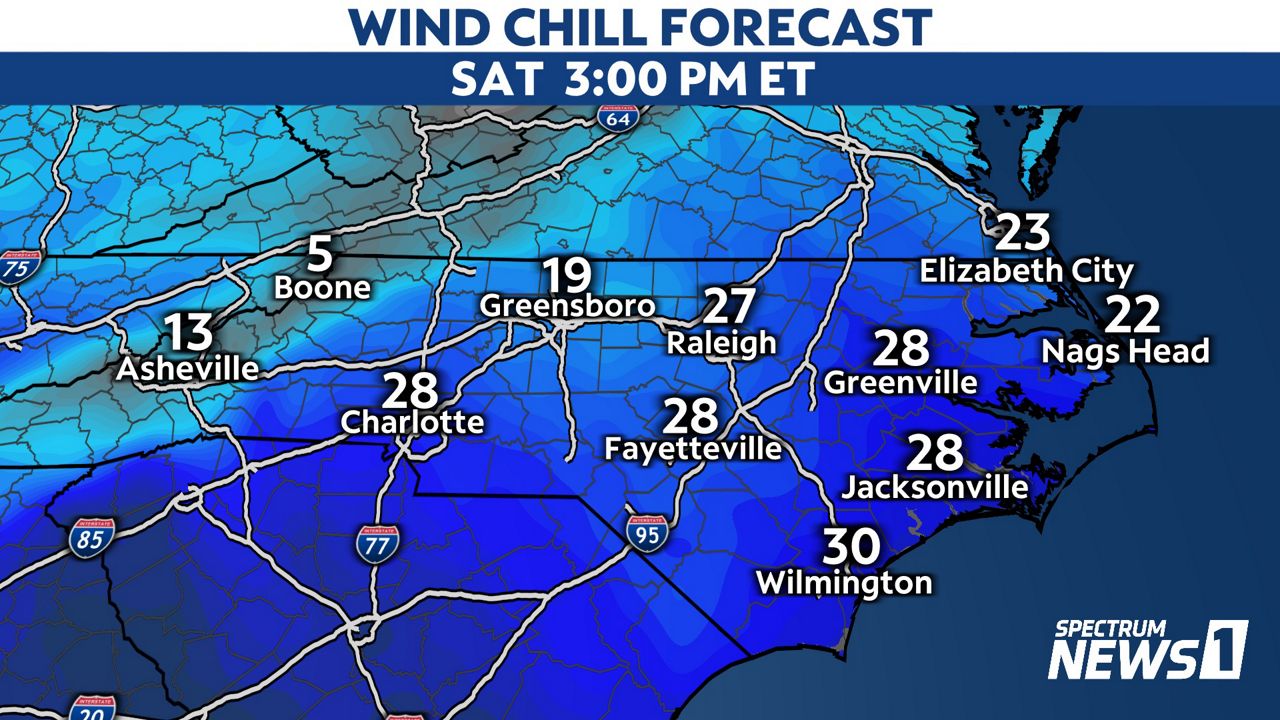 Around western North Carolina, you should limit anytime outside Saturday due to the dangerously cold conditions. If you have to be outside for even a short time, wear gloves, a hat, and anything to cover your skin. Frostbite could develop in less than 30 minutes.
Soundside flooding at the coast
The windy conditions may also create some problems along the Outer Banks due to soundside flooding.
Sand and water may get blown on to N.C. Highway 12 effecting travel between Oregon Inlet and Hatteras.
The NCDOT says ferry operations along the coast may also be impacted.