VR is one of those things where immersion doesn't end with putting on a headset. Touch controllers, room-scale tracking, tactile interactivity, and software and games tap into all that.
VIEW GALLERY – 4 IMAGES
With the Meta Quest 2 and the recently released PlayStation VR2, there's a definite market for what VR brings to immersive digital spaces, and it's one of those things where after you try it, you're likely to become a convert.
This makes the debut of the Omni One, which is now shipping units to its investor community with a planned launch slated for later this year, a very cool proposition. It's an all-in-one VR solution with an omnidirectional treadmill that allows complete movement in VR games and software.
Created by Austin-based Virtuix, based on the commercial Omni Pro found in entertainment venues worldwide, the Omni One is designed for home with dimensions of 4 feet wide (120 cm) and 5 feet long (150 cm). This is less space than clearing out things for some room-scale VR, and the entire unit weighs in at 70kg and can fold up for storage or to move around.
Like the Meta Quest 2, the Omni One is an all-in-one you-don't-need-a-PC VR solution and ships with the impressive Pico Neo 3 Pro headset. A 4K headset with a wide 98-degree field of view, full tracking, and a powerful Qualcomm XR2 CPU.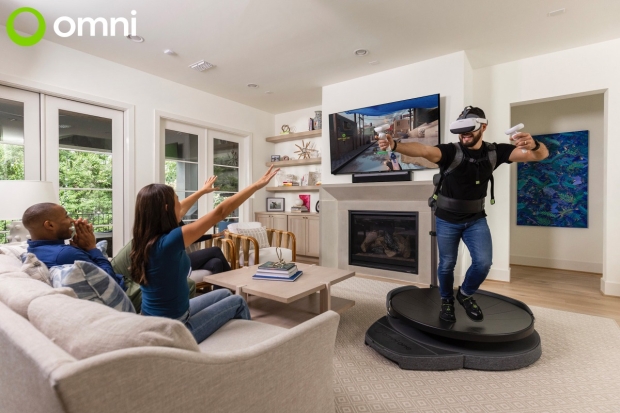 "We're thrilled about Omni One," said Jan Goetgeluk, founder and CEO of Virtuix. "After a long and challenging development process, spanning Covid-19 and supply chain shortages, Omni One has turned out to be an awesome product that delivers on our company's original vision of an active VR entertainment system for the home. Our commercial products have hosted over 3 million plays at entertainment venues worldwide, and we've built a fanatical player community of over 300,000 registered players. We can't wait to bring our popular gaming experience to the homes of our many players and fans."
The Omni One's introductory price is USD 2,595 or available on a USD 65/month payment plan, including the Pico Neo 3 Pro headset. A full release is expected later this year, with early access to the Omni One available to investors, where a 30% discount is offered. Virtuix is running a Reg CF campaign as part of its Series B funding round, with the firm noting that Mark Cuban is one of the company's investors.
It certainly sounds like an impressive bit of VR tech. Still, as the Omni One features a proprietary OS and game store, it's currently unknown what games will be available at launch other than the company targeting 30 VR titles on day one. Still, the idea of full 3D movement in VR does open the door to many more styles of VR gaming.