Destined to pale into insignificance a few laps later when Francesco Bagnaia found his way to the gravel, Ducati's original big flashpoint of the Motegi MotoGP race was still a notable occasion.
When Enea Bastianini sent it down the inside of Bagnaia for 10th place on the ninth lap of the race, the world feed cameras cut to the Ducati pit box, featuring a seemingly incandescent Davide Tardozzi.
The Ducati team manager was masked up so the exact expression of his face in that moment remains a mystery, with only some arm gesticulation offering a clue. But the interpretation that he really didn't like what he saw is supported by the fact that shortly after that run-in he apparently headed straight for the pitwall of the Gresini team that employs Bastianini.
The move was ultimately firm but fair – Bastianini took Bagnaia wide in the corner but left him space and arguably didn't cost him further position. And, in a vacuum, he was perfectly entitled to go for it. Bagnaia had found himself stuck behind Honda's Pol Espargaro, and Bastianini, once through on his Ducati stablemate, took care of the Spaniard in just two laps.
So, Bastianini had a very strong case for trying to get a move on – and after Bagnaia finally found his rhythm he would pounce on the Gresini man at Turn 12 on lap 20, seemingly catching him unawares.
So, no harm, no foul – yet the Ducatis don't race in a vacuum, particularly right now, and it was an encounter that has only added to what has already been a rich storyline that featured Bastianini running Bagnaia oh-so-close for the win at Misano and then actually beating him on the last lap at Aragon.
To recap, Bagnaia's Ducati's main title hope, but Bastianini is an outside contender. Bagnaia has publicly sworn off the idea of team orders, but Ducati higher-ups have been a lot more cautious – suggesting that for now their riders simply need to take more care while racing each other, but that come the final two races of the season in particular that might turn into more explicit guidelines.
But Ducati's bet-hedging in this regard seems quite informative. Not only would it be not the greatest of looks, PR-wise, to use your eight-bike presence on the grid to stack the deck in favour of your title hopeful, but at least one rival manufacturer has been implying at Motegi that it's not something Ducati should be allowed to do. Bastianini might be factory-contracted – not just in 2023, when he joins the works team, but right now – but Gresini as a team is theoretically a separate independent entry.
So, what's the best way around that? Why, it's 'soft power' – getting somebody to voluntarily do something that you want them to do without specifically ordering it.
After Bagnaia was initially passed by Bastianini, he had another Ducati satellite team rider behind him in Marco Bezzecchi. Bezzecchi, of the VR46 team, shadowed him for several laps but never make the move. And his post-race comments confirmed the obvious interpretation as to why was the correct one.
"Honestly, I was thinking a bit too much during the race," said Bezzecchi. "Because Pecco [Bagnaia] is my big friend, so… I had more pace maybe in a certain moment of the race, but I preferred to stay there."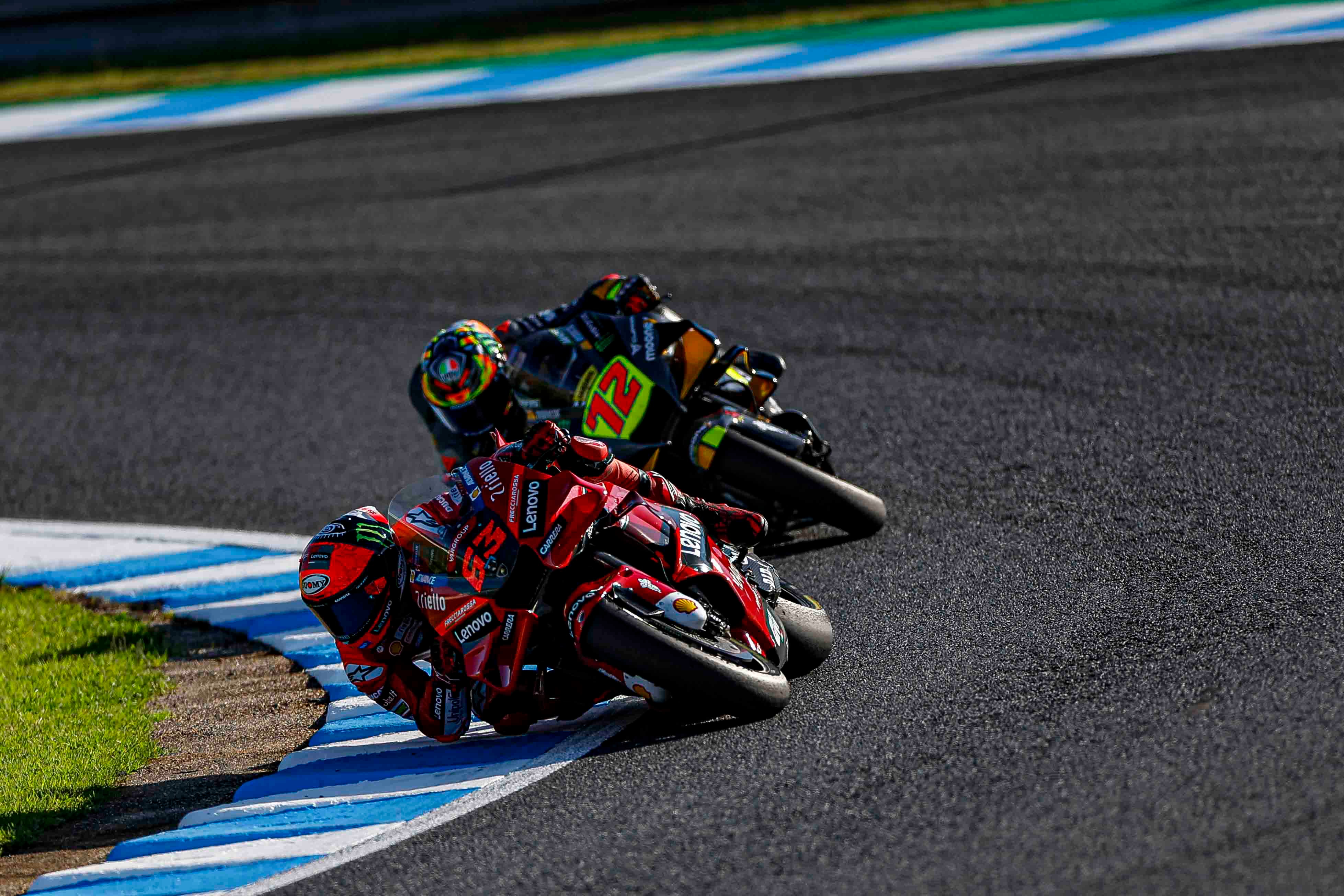 Bezzecchi's fear of "making a disaster" with Bagnaia probably didn't help maximise his race – he began to struggle with front tyre pressure in Bagnaia's wake, eventually dropped back and only narrowly fought off Johann Zarco for 10th place.
But that's unlikely to bother Bezzecchi himself or his VR46 team, run by Valentino Rossi – a mentor for both Bezzecchi and Bagnaia.
"[It was] completely my choice. Because Gigi [Dall'Igna, Ducati tech chief] and all the Ducati stuff didn't say nothing to me. I decided like this."
This must be music to Ducati's ears – the preferred outcome achieved without the public humiliation of a team order. But Bastianini is singing a different tune – and, weekend-to-weekend, he is a much bigger threat than the work-in-progress rookie Bezzecchi.
When asked about Bagnaia's eventual crash that he effectively had front row tickets to, Bastianini made a telling comment: "We are here to battle for the title. We have to try to do the best possible. I think Pecco, me also. It can happen."
Bastianini is now 49 points off championship leader Fabio Quartararo, and 31 points off Bagnaia, with four races to go. Still on the table is a nice round 100.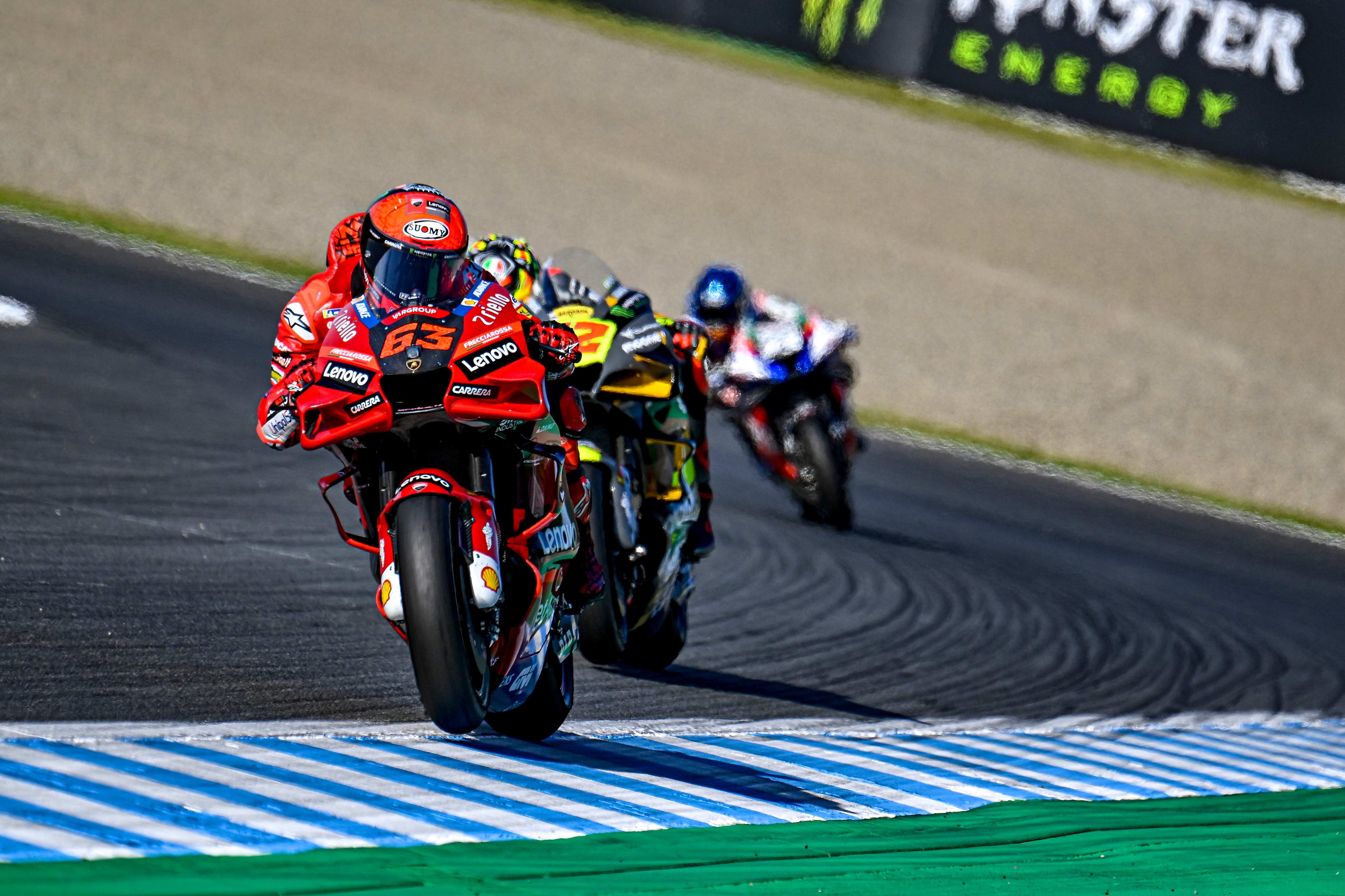 Cryptically, after insisting after yet another race that there have been no team orders, Bastianini alluded to there having been a Ducati "plan" for Motegi. But he also admitted that he was eyeing a last-lap attack, presumably on Bagnaia, before the latter went down.
Unlike Bezzecchi, Bastianini does not share a mentor with Bagnaia. Unlike Bezzecchi, he is still mathematically in the title hunt.
'Soft power' alone clearly isn't cutting it here. And if Ducati wants to maximise Bagnaia's chances, which even after the Motegi crash appears a prudent course of action, it will have to get creative or get firm.